Extraordinary Insights
Design Studio, Adaption
We have been looking for the right design solution to solve complex problems and researching about the essence of brands and objects. We have respect for human centered design values, verify the viability of new business and study the feasibility of new technologies. We believe that a new model of design innovation that we think will be completed when human centered usability, business viability and feasibility of technology are completed.
-
어뎁션은 산업디자인전문회사로 브랜드와 사물의 본질에 대해 연구하며, 복잡하게 얽혀있는 문제들을 해결할 수 있는 올바른 디자인 솔루션을 갖고 있습니다. 우리는 인간 중심의 디자인 가치를 존중하고 새로운 비즈니스의 실행 가능성과 새로운 기술의 실현 가능성에 대해 고민합니다. 우리는 인간 중심의 사용성, 비즈니스의 실행 가능성 그리고 기술의 실현 가능성이 하나로 완성 될 때 우리가 생각하는 새로운 디자인 혁신 모델이 완성된다고 믿습니다.​​​​​​​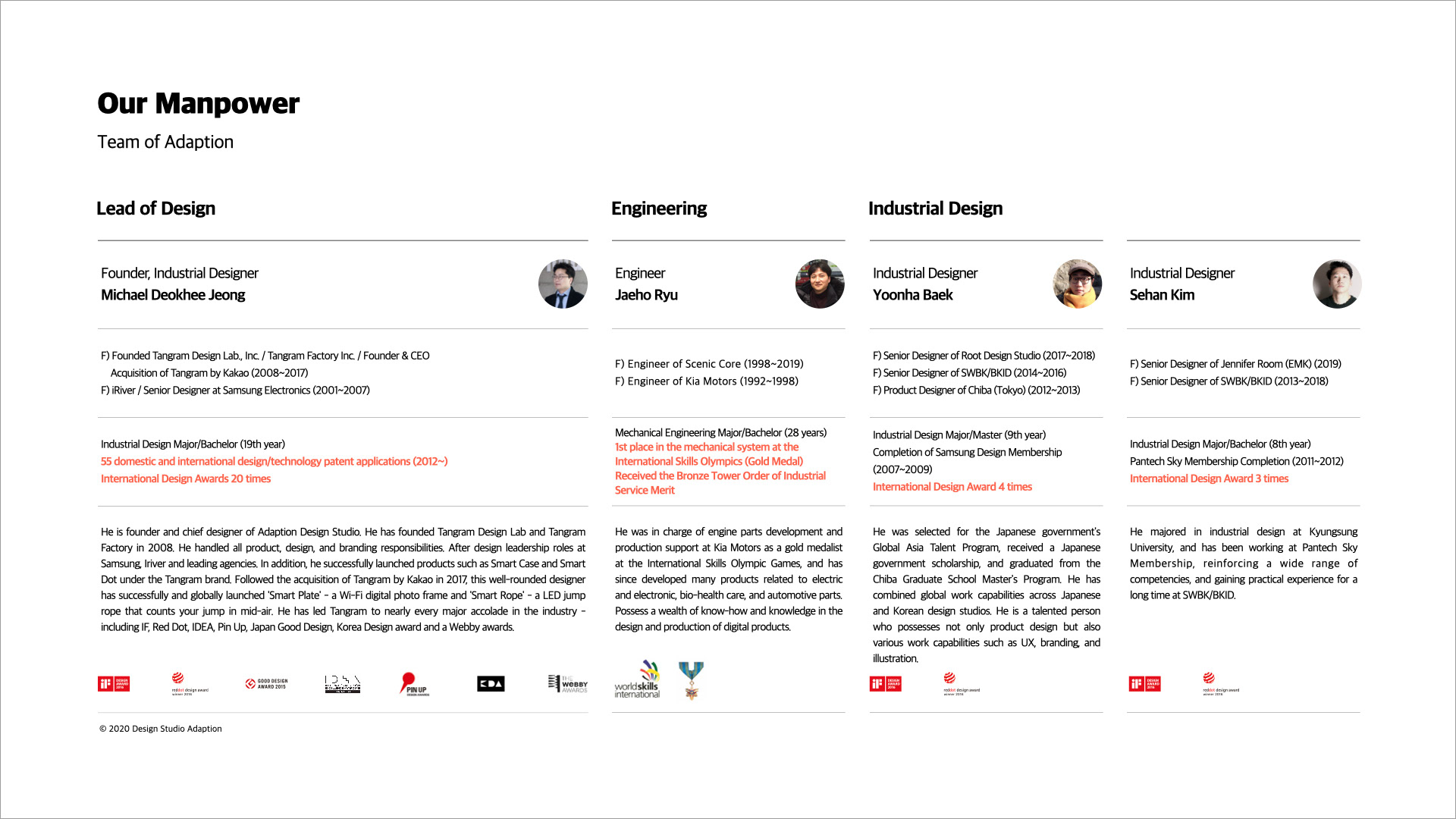 Founder and Chief Industrial Designer
Deokhee Jeong (정덕희)
Deokhee Jeong is founder and chief designer of Adaption Design Studio. He has founded Tangram Design Lab and Tangram Factory in 2008. He handled all product, design, and branding responsibilities. After design leadership roles at Samsung, Iriver and leading agencies. In addition, he successfully launched products such as Smart Case and Smart Dot under the Tangram brand. Followed the acquisition of Tangram by Kakao in 2017, this well-rounded designer has successfully and globally launched 'Smart Plate' - a Wi-Fi digital photo frame and 'Smart Rope' - a LED jump rope that counts your jump in mid-air. He has led Tangram to nearly every major accolade in the industry - including IF, Red Dot, IDEA, Pin Up, Japan Good Design, Korea Design award and a Webby awards.
-
산업디자인전문회사 어뎁션의 설립자이자 대표 디자이너인 정덕희는 어뎁션 설립 이전, 2008년, 탱그램디자인연구소와 탱그램팩토리를 설립하여 2017년, 카카오에 회사를 매각하기까지  탱그램 브랜드와 모든 프로젝트를 총괄하였습니다. 삼성전자, 아이리버 등에서 디자인 리더쉽을 키워온 그는 탱그램을 창업한 이후 스마트케이스, 스마트 닷 등과 같은 IT 제품을 성공적으로 출시하였고, 카카오의 전략적 투자 이후 디지털 포토 프레임 스마트 플레이트와 피트니스 디바이스 스마트 로프를 전세계에 성공적으로 출시하였습니다. 독일의 IF, 레드닷 디자인 어워드와 일본의 굿 디자인 어워드, 한국의 핀업 어워드 및 코리아 디자인 어워드 등을 포함하여 거의 모든 산업 분야에서 큰 영예를 안았습니다.
-
1994년 ~ 2003년
세종대학교 산업디자인 전공, 졸업
2018년 ~ 현)
 (주)어뎁션 설립, 대표 /
2008년 ~ 2017년
전) (주)탱그램디자인연구소 설립, 대표 /
2015년 ~ 2016년
전) (주)탱그램팩토리 설립, 대표
2017년 ~ 현)
Pin-Up Design Award, Concept Design Award 심사위원 / (사)한국산업디자이너협회 이사
2020년 ~ 현)
 K-Design Award 심사위원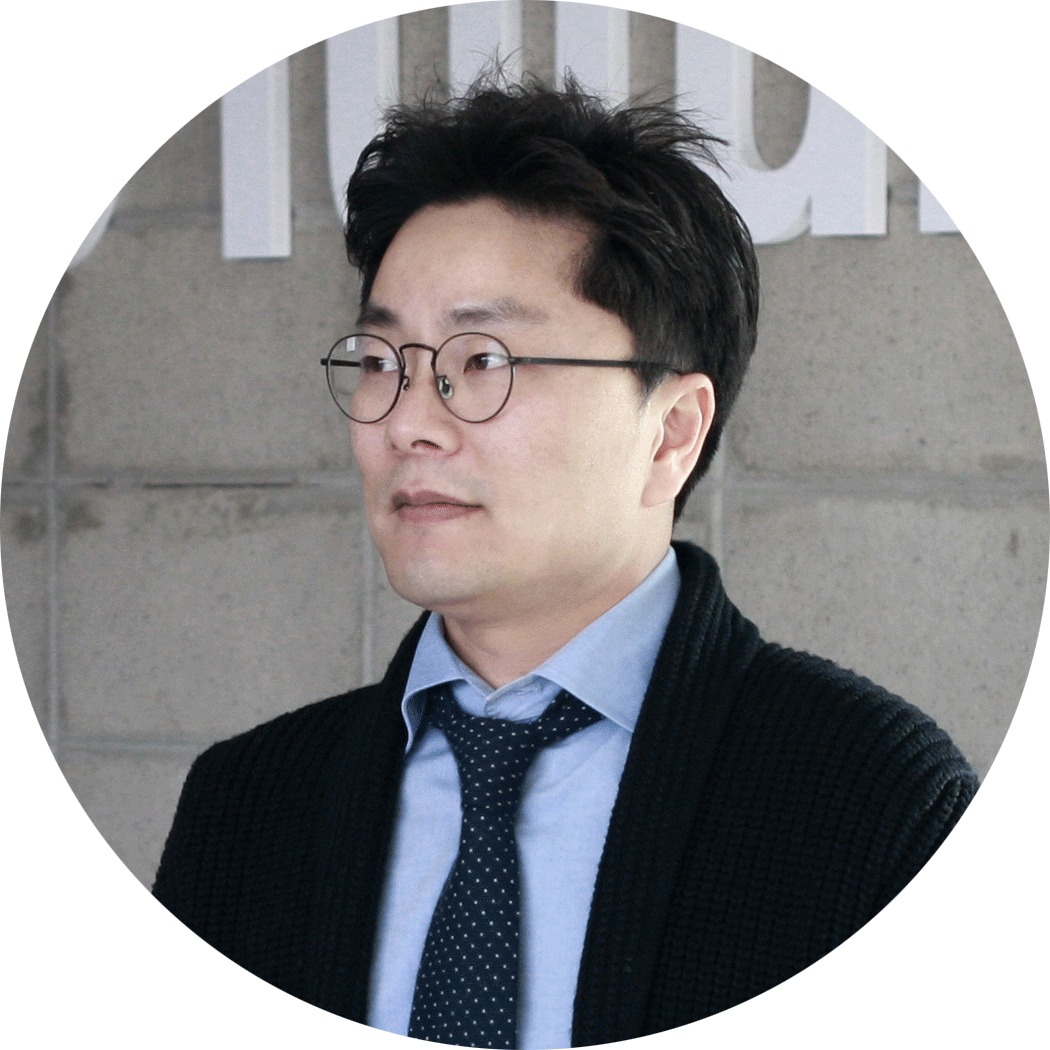 Global Design Awards
2020' Red Dot Product Design Award, Winner - Charlotte A.I speaker
2020' IF Product Design Award, Winner - Charlotte A.I speaker
2016' Red Dot Product Design Award, Winner - Smart Rope
2016' IDEA Design Award, Winner - Smart Rope
2016' IF Product Design Award, Winner - Smart Rope
2015' Pin up Design Award, Silver Prize - Smart Rope
2015' Japan Good Design Award, Gold Prize - Smart Rope
2015' Japan Good Design Award, Best 100 - Smart Rope
2015' Korea Design Award, Grand Prize - Smart Rope
2014' Pin Up Design Award, Gold Prize - Smart Plate
2014' Japan Good Design Award, Winner - Smart Plate
2014' IF Product Design Award, Winner - Smart Plate
2013' Japan Good Design Award, Winner - Smart Dot
2013' IF Product Design Award, Winner - Smart Dot
2013' IF Product Design Award, Winner - Smart Mount
2013' IF Communication Design Award, Winner - Smart Dot
2012' IF Product Design Award, Winner - POLE 1.5
2012' IF Product Design Award, Winner - Smart Case
2007' Webby Award, Grand Winner - LG Chocolate Phone Micro Site
2007' IF Communication Design Award, Winner - Samsung Stealth VC Micro Site​​​​​​​
Global Exhibitions
2015 MWC Exhibition (Barcelona, Spain)
2014 Design Festival Exhibition (Coex Seoul, Korea)
2014 Design Korea Exhibition (Coex Seoul, Korea)
2014 GMW Exhibition (Kintex Ilsan, Korea)
2014 World IT Show Exhibition (Bexco Busan, Korea)
2012 IFA Exhibition (Berlin, Germany)
2012 World IT Show Exhibition (Seoul, Korea)
2011 IFA Exhibition (Berlin, Germany)
2011 Korea Sourcing Fair Exhibition (Hong Kong)
Media References