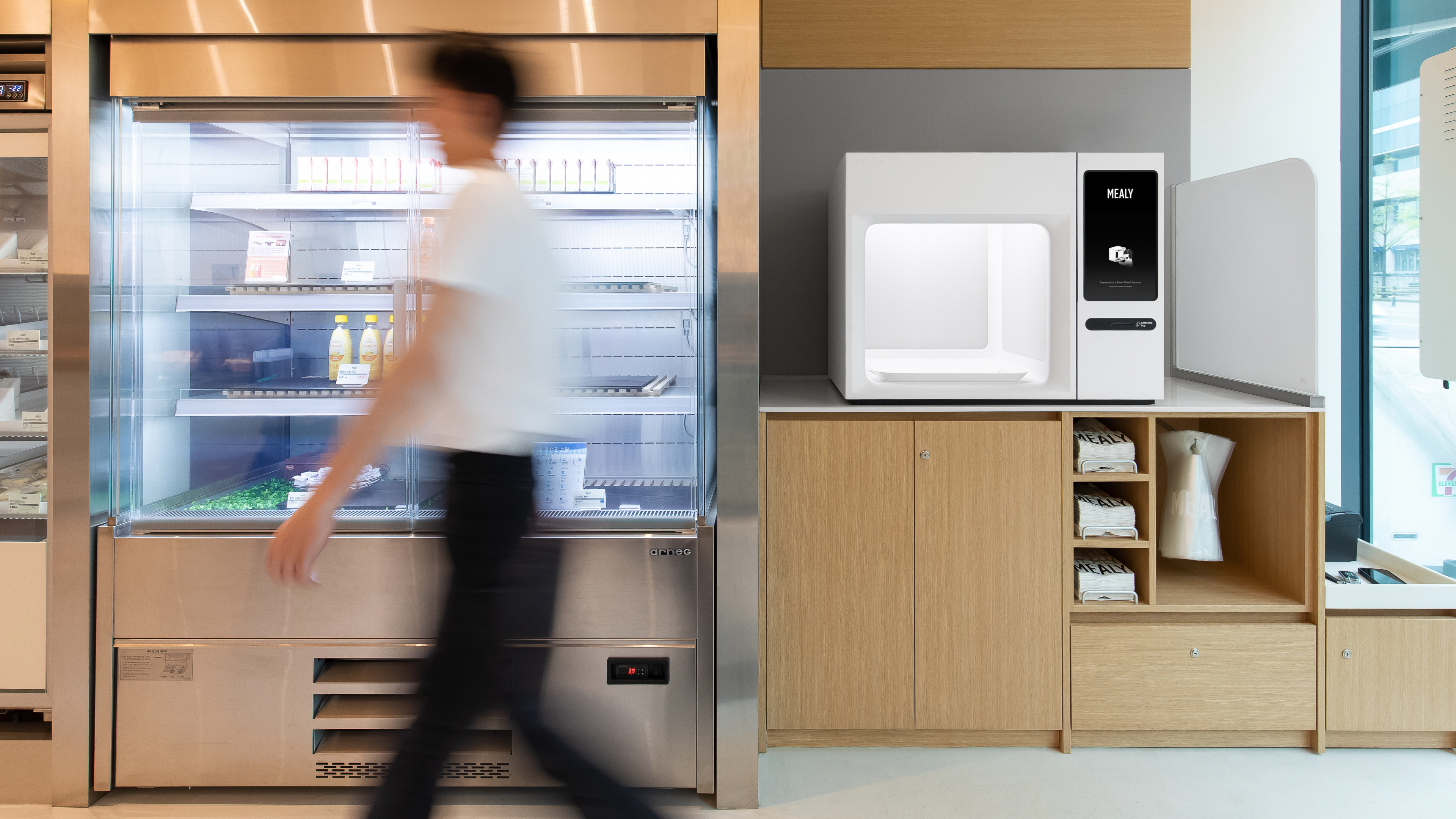 INFINIQ and ADAPTION Design Studio Launch Innovative Retail AI Solution 'Mealy'
Collaboration on the ANCCO device for unmanned sales and payment systems delivers groundbreaking retail solution
INFINIQ and industrial design firm ADAPTION Design Studio announced the official launch of their innovative retail AI solution 'Mealy'. This solution is a result of combining INFINIQ's cutting-edge artificial intelligence technology with ADAPTION's unique industrial design capabilities, aiming to achieve unmanned and 24-hour operation in offline small-scale retail stores such as bakeries, convenience stores, and supermarkets.

The Mealy application provides various features such as product recognition, inventory management, customer behavior analysis, and status monitoring, enhancing the shopping experience for customers and securing stable new revenues for retail businesses. The key component making this possible is the ANCCO device designed by ADAPTION Design Studio. This device offers high recognition accuracy and data analysis capabilities, along with a user-friendly interface.

ADAPTION Design Studio is led by globally renowned industrial designer DEOKHEE JEONG, who has won all four major design awards in the industry. Under DEOKHEE JEONG's leadership, ADAPTION creates innovative designs based on a user-centered design philosophy, considering functionality and user experience.

The ANCCO device can operate simultaneously with a counter during peak hours, providing an average of more than 10 times faster processing than traditional staff. Additionally, it can handle sales and payments during late-night hours without the need for additional staff, enabling 24-hour sales and efficient inventory clearance. This functionality allows for cost savings on employee training and more flexible, efficient workforce management.

The collaboration between INFINIQ and ADAPTION Design Studio on the Mealy service is expected to revolutionize the existing retail market. By implementing unmanned sales and payment systems, customers will enjoy an improved shopping experience, and store operators will benefit from cost savings and efficient management methods, paving the way for the future of the retail industry.

Alongside the launch of Mealy, INFINIQ and ADAPTION Design Studio have stated their commitment to continuing innovation in the fields of artificial intelligence and industrial design. Their ongoing collaboration is expected to offer consumers better services and products, and have a positive impact on the retail industry as a whole.

Through the launch of Mealy, INFINIQ and ADAPTION Design Studio are set to provide innovation in the lives of consumers and set new standards in the retail industry. With continued innovation and effort, the Mealy solution is expected to be introduced globally, transforming the retail landscape worldwide.

-

INFINIQ와 산업 디자인 전문회사 ADAPTION 디자인 스튜디오는 혁신적인 리테일 AI 솔루션인 'Mealy'를 공식 출시했다고 발표했습니다. 이 솔루션은 INFINIQ의 뛰어난 인공지능 기술과 ADAPTION의 독특한 산업 디자인 역량이 결합된 결과물로, 베이커리, 편의점, 슈퍼마켓 등 오프라인 소규모 리테일 매장에서 무인화 및 24시간화를 실현합니다. Mealy 애플리케이션은 상품 인식, 재고 관리, 고객 행동 분석, 상태 모니터링 등 다양한 기능을 제공하며, 고객의 쇼핑 경험을 증진시키고 리테일 업체의 안정적인 신규 매출을 확보하는데 도움을 줍니다. 이를 가능하게 하는 핵심 구성 요소는 ADAPTION 디자인 스튜디오가 디자인한 ANCCO 디바이스입니다. 이 디바이스는 높은 인식 정확도와 데이터 분석 기능을 제공하면서 사용자 친화적인 인터페이스를 갖추고 있습니다. ADAPTION 디자인 스튜디오는 세계적으로 유명한 산업 디자이너 정덕희가 이끄는 회사로, 세계 4대 디자인 어워드를 모두 석권한 업계의 거장입니다. 정덕희 산업디자이너의 리더십 하에, ADAPTION은 사용자 중심의 디자인 철학을 바탕으로 기능성과 사용자 경험을 고려한 혁신적인 디자인을 창출해냅니다. ANCCO 디바이스는 피크 시간대에 카운터와 동시 운영이 가능하며, 기존 직원 대비 평균 10배 이상의 빠른 처리를 할 수 있습니다. 또한,심야 시간대에는 별도의 점원 도움 없이 판매와 결제를 처리할 수 있어, 24시간 판매 및 효율적으로 재고를 소진할 수 있습니다. 이러한 기능 덕분에 신메뉴, POS 사용법에 대한 직원 교육 훈련 비용의 절감 및 탄력적이고 효율적인 인력 운영이 가능해집니다. INFINIQ와 ADAPTION 디자인 스튜디오의 협업을 통한 Mealy 서비스는 기존의 리테일 시장에 혁신을 불어넣을 것으로 전망됩니다. 무인 판매 및 결제 시스템의 도입으로 고객들에게 더 나은 쇼핑 경험을 제공하고, 매장 운영자에게는 비용 절감과 효율적인 관리 방식을 제안함으로써 리테일 산업의 미래를 선도할 것으로 기대되고 있습니다. Mealy의 출시와 함께, INFINIQ와 ADAPTION 디자인 스튜디오는 앞으로도 인공지능과 산업 디자인 분야에서의 혁신을 지속적으로 추구할 것이라고 밝혔습니다. 이들의 지속적인 협력을 통해 소비자들은 더 나은 서비스와 제품을 경험할 수 있게 될 것으로 전망되며, 리테일 산업 전반에 긍정적인 영향을 미칠 것으로 기대됩니다. 이번 Mealy 출시를 통해 INFINIQ와 ADAPTION 디자인 스튜디오는 소비자들의 삶에 혁신을 제공하고, 리테일 산업에 새로운 기준을 세울 것으로 예상됩니다. 이들의 지속적인 혁신과 노력이 기대되는 가운데, Mealy 솔루션은 전 세계적인 확산이 목표로 선보여질 것으로 알려져 있습니다.