Bringing us to the table, Smart Plate
Smart Plate is a cloud-enabled digital photo frame that makes sharing photos simple. Smart Plate's interface and companion app were designed specifically to be intuitive and easy to use, even for people who are new to the technology. Just like our photos say so much about us, so do our physical environments – our living spaces, our bedrooms, our desks at work. We designed Smart Plate to complement interior design - in a sea of black monitors and screens, Smart Plate stands on its own as a design item, even when it's not in use. Digital function, in analog form. We faced two unique design challenges that weren't solved by most of the digital photo frames on the market. First, the vast majority of digital photo frames are simply black screens, not much different from our TVs or computer monitors. They are cold, anonymous, and far from aesthetically pleasing – especially when they're not actively in use. We wanted to create an inviting, more organic design that complements interior design and our personal, physical environments. Second, we felt that many people who want a digital photo frame are often the same people who don't want to deal with yet another device or gadget. Every new product has a learning curve, so we set out to design the most intuitive user experience possible. If you own a smartphone, you should be able to enjoy Smart Plate without poring over an instruction manual.
Digital function in analog form
Our design philosophy focuses on the genuine human experience, beyond the tech specs. Although it features cutting-edge technology on the inside, Smart Plate is a standalone object of simple beauty. Just as a chef artfully presents a meal on a plate, your priceless moments are shared on Smart Plate. Smart Plate comes in colors and materials that complement any environment. The included magnetic cover protects the display on the go or when not in use, or functions as a stand in two different positions. An optional wall mount is also available. Each Smart Plate is individually numbered on the back of its magnetic cover to accentuate its limited run.
Sharing with your loved ones
Send photos taken by your smartphone to Smart Plate quickly and easily. Share your special moments with your loved ones. Let us help you stay closer. Smart Plate's dedicated mobile app is included free of charge and regularly updated. Using Smart Plate, along with its app, is easy and intuitive. Simply connect Smart Plate to wireless Internet and download the app on your smartphone. Select photos and send.
In contrast with the cold, technological form of most digital photo frames, we designed Smart Plate to be immediately familiar and inviting, yet versatile and universal enough to complement any interior design or physical environment. Sharing and enjoying food with friends and family remains one of the few central social activities in our hectic lives, and the form of Smart Plate is a reflection of that warm, genuine interaction.


Smart Plate's form is organic and welcoming, with no sharp corners or overt hardware – no physical buttons, switches, or anything to indicate all the technology inside. Smart Plate's magnetic cover protects the screen while not in use, or during transport. Simply place the cover at one of two angles behind Smart Plate for easy viewing on a desk or table, or mount it on the wall. The rich, natural texture of wood is applied by water transfer printing to ensure a smooth, consistent look across all surfaces. The back cover was finished in white / ivory to complement most environments. 

Even the most tech-savvy user has been frustrated by networking devices at one point or another, and sadly the digital photo frame is no exception – despite its relatively simple function. With Smart Plate, simply plug in the power cord and the interface guides you step by step through the initial setup process. Once this is complete, the experience is completely intuitive. 

Smart Plate's touch screen interface provides context for the user in every step of the process. Any smartphone user will be familiar with pinching the screen to zoom into photos or zoom out to see a catalog of images.

We designed the Smart Plate interface to encourage sharing. Photos can be sent via WiFi from anywhere in the world, with no need to physically interact with Smart Plate. Linking Smart Plate and the Smart Plate app is simple, and multiple cloud accounts can be linked to a single smartphone. This means we can send party photos to a friend in Asia or a relative in Europe from the same app. And two siblings off to college can send Mom their photos to her single Smart Plate. 
From looking at the sea of cold, sterile screens out there, it's clear that we wanted Smart Plate to take a unique form. That said, simply applying a traditional frame to a digital screen seemed to be a disconnect aesthetically, and didn't address how it would look when not in active use. We designed Smart Plate to be a unique solution, but also a design that was immediately familiar and complemented any environment. Whether Smart Plate is mounted on a blank wall or next to artwork, placed on a busy desk or next to the coffee maker in the kitchen, Smart Plate makes sense aesthetically as a standalone object. The magnetic cover protects the screen when not in use or during transport, and doubles as a stand that positions the image at varying angles – a simple, elegant solution that is the cornerstone of our design philosophy.


The fundamental concept behind the design and development of a companion smartphone app for Smart Plate was to encourage easy sharing of photos, both for the user in his / her environment and for friends and family in other locations. With Smart Plate, there's no need to be physically tied to the frame itself, inputting commands into a frame when it's mounted on a wall or standing among books and souvenirs on a shelf. With Smart Plate, friends and family around the world can send photos effortlessly, from multiple accounts to multiple Smart Plates. And behind the scenes, system updates and software upgrades can be implemented without the user getting mired in the hardware.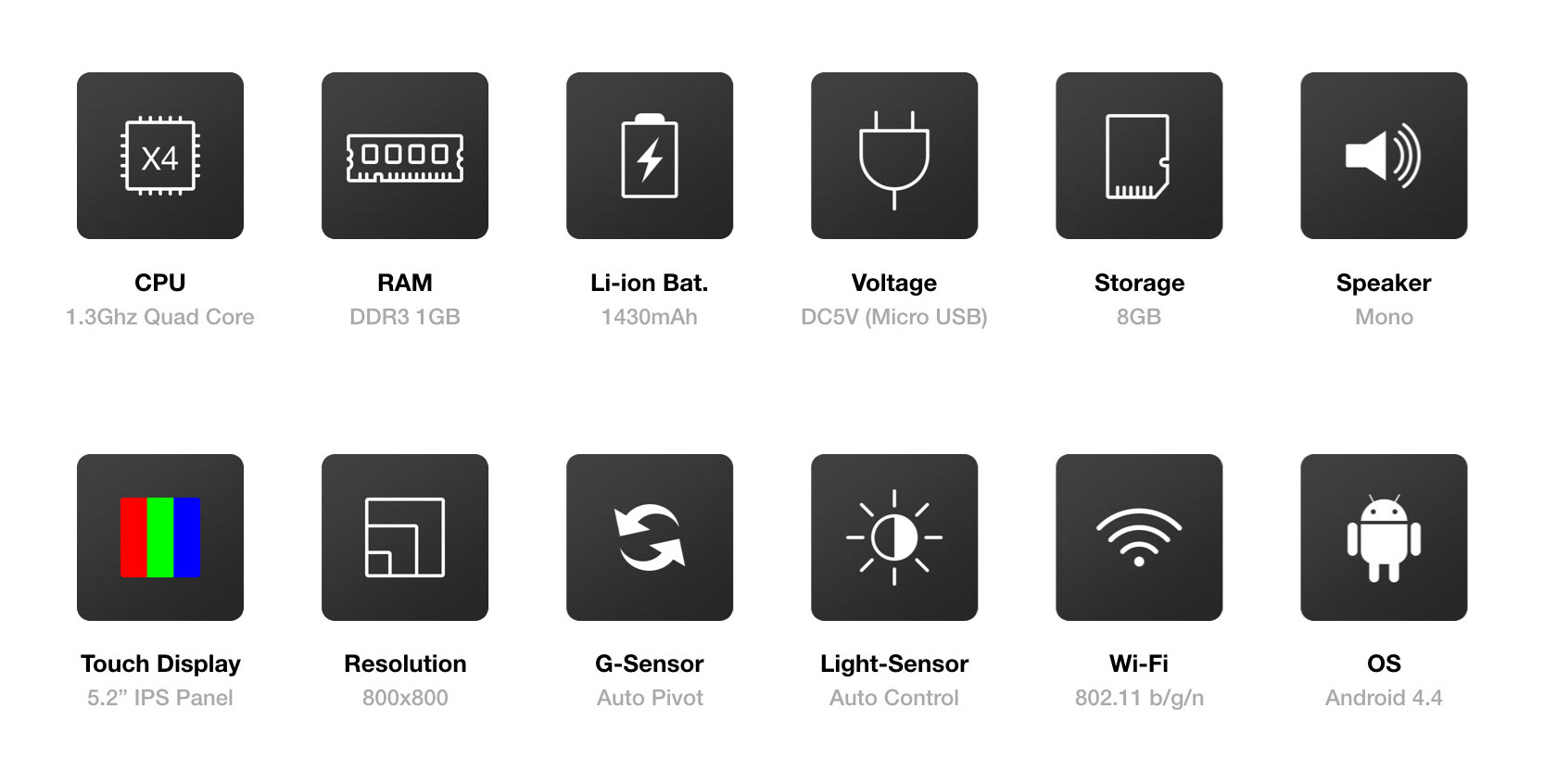 Sharing photos has been a vital part of any relationship for generations, and Smart Plate finally brings people closer together with its intuitive user experience and organic design. While we capture photography in increasingly diverse ways – cameras, video recorders, webcams, smartphones – the end goal remains the same: recording our memories and sharing them with ourselves and our loved ones. Smart Plate simplifies the process of photo sharing so everyone can take part, regardless of tech knowledge. While anyone with a smartphone can use the Smart Plate app to send photos, receiving and enjoying photos on Smart Plate is even easier. 
Both Smart Plate's form and function take sustainability into account. The design of Smart Plate is as timeless and universal as breaking bread with friends and family – a warm, inviting design that complements any interior design and environment, and won't look dated with the passing time or trend. The magnetic cover acts as a display stand, reducing moving parts and making the recyclable package as compact as possible for shipping and transport. By using advanced, robust technology like a fast CPU and ultra high-resolution screen, Smart Plate will continue to display beautiful images. The firmware and software are all upgraded wirelessly, which means we'll be able to continue to upgrade Smart Plate's functionality and ease of use.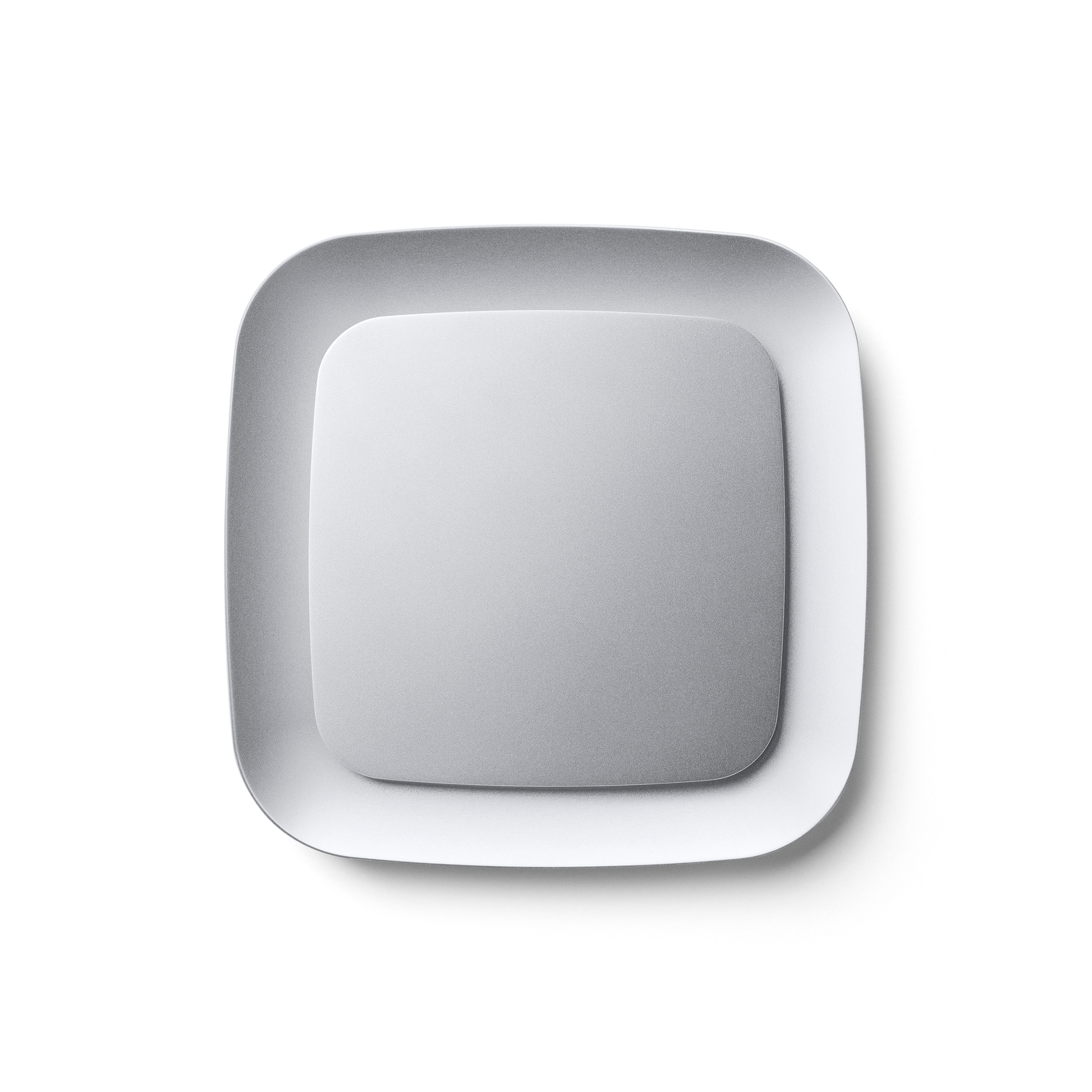 New perspectives, new experiences
Asking extraordinary questions in everyday life – that's where we begin. Connecting people to products, products to products, and people to people is what drives us every day. By applying a unique perspective and a new understanding, we elevate the ordinary into the extraordinary, because that's the kind of world we envision. One Thousand is a "micro market" brand, producing an initial run of 1000 of each new product. The products validated by the first 1000 consumers are then carefully selected for mass production. This is our innovative approach to bringing ideas to life. By redefining relationships, we present consumers with unique experiences. By creating innovative experiences based on new technologies, and emotional experiences based on new perspectives, we connect people to products, products to products, and people to people closer together.